6x12x14 Douglas Fir timber, flush-mounted brackets, automotive paint. Tabula Rasa Bar, a wine bar in Hollywood, needed a bench on their patio. I wanted to put something back there that would be practically indestructible and very low-maintenance. The beauty and strength of a single Doug Fir timber is unmatched so I devised a system of brackets to celebrate it.
Bracket Design

After several drafts, I arrived at this design to wrap around the timber and prevent twisting or bowing as it ages. Since only three brackets support the live load of up to nine inebriated humans, they'd have to be really stout. I chose quarter-inch steel and gusseted the wall flange for extra stiffness.
Metal Fabrication
Being only an amateur welder, I hired Chris Hench of Esme Fabrication to fabricate the brackets. The space presented a couple obstacles: the floor is 4" out of level in 14' and the face of the retaining wall is 5 degrees off-plumb. Because there's no muscling a 6x12, each bracket had to be exactly to spec or the timber wouldn't fit. Chris's work was perfect.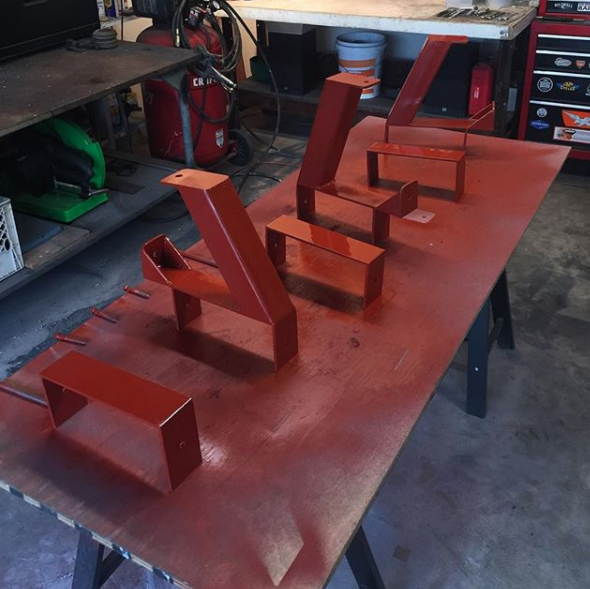 Metal Finishing
Chris cleaned up the welds and deburred the edges for safety, and used automotive paint to ensure a durable and long-lasting finish.
Hardware
To anchor the brackets to the wall and floor, I went with 3/8" Simpson concrete anchors and SET epoxy. Simpson's epoxy retaining caps kept the bolt centered in the hole on the vertical surfaces.
Carpentry
To get an arrow-straight 6x12 at 14 feet long, I arranged to receive the piece fewer than 48 hours after milling. Budget constraints precluded kiln-dried lumber, so I calculated for an 1/8" of shrinkage. For repeatable precision, I made a jig to cut the bracket insets adding an 1/8" to their depth. After curing in place, the surface of the bench would land flush with the brackets.
Final Mounting
To attach the bracket to the timber I used timber spikes in the front for their dressed-up appearance and low profile. In the limited space on the back of the bracket, 3" lag screws did the trick.